2019 Youth Basketball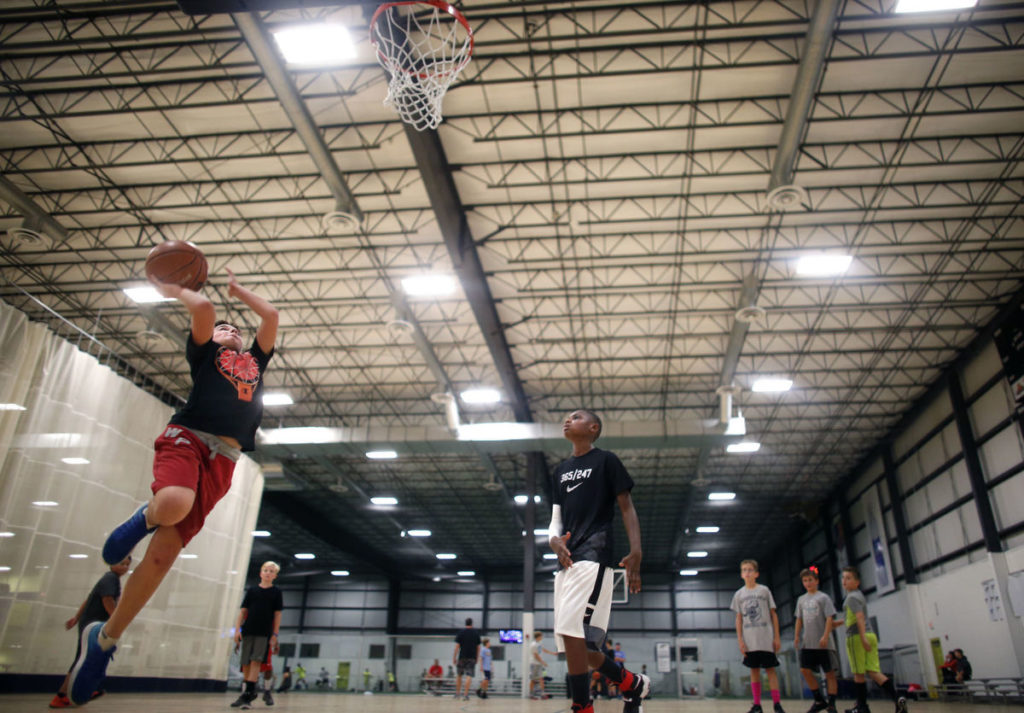 Play Time: Sunday mornings/early afternoons with spillover to Friday evenings
Price: $80-90
$80 per person registration fee + $10 admin fee (yearly)
Must provide Birth Certificate or government issued ID to verify age
7 Regular season games + Postseason
The number of teams able to participate in playoffs will be determined by the director early in the season. Not every team makes playoffs
1st Tie Breaker is head to head matchup. 2nd Tie Breaker is points allowed
Teams must be registered 7 days prior to the start of each season
Must have at least 5 players paid in order to be added to the schedule
If you do not pay, you will not play until payment is collected
Players may register as a free agent or to a private team
Minimum roster is 7 players, there is no max
Rosters must be finalized by game 4 of each season
Schedules will be posted online.

 

Please do not print the schedule as it is subject to change.
In the event of an ejection, players will be suspended for a minimum of 1 week forcing them to miss the following game.
Teams must be registered 7 days prior to the start of the season and must have 5 paid players in order to be added to the schedule
Any free agents wishing to play together must email the director, Lance Hurdle at lhurdle@beachfieldhouse.com.
All Virginia Beach Field House intramural basketball games for both youth and adult are governed by the National Federation of High School Basketball rules with the EXCEPTIONS and modifications outlined in the rules below. The official rules are written and published by the National Federation of State High School Associations (NFHS), which governs Virginia High School basketball rules.
Only Youth Recreational teams will receive a jersey as part of their registration fee. Practices are not guaranteed with this league but more so offered based on our court availability (this ranges on a seasonal basis). Our leagues are set up for participants to learn through gameplay. 
Please note: Coaches are required for all youth sports, including High School, to ensure player discipline & sportsperson ship. These individuals do not need to make coaching decisions, but must attend games. The Virginia Beach Field House does not assign coaches to teams. No Full Court press allowed in any recreational divisions, only half court press is allowed. Full Court press is allowed in the competitive divisions. Sportsmanship Rule: No Full Court press when winning by 20+ points. 
Season Information
WINTER 2019 SEASON
Registration:  Closes December 20
Games: December 27 – February 9
Games held on Sunday mornings and early afternoons with some spillover on Friday evenings.
Division Information
| | |
| --- | --- |
| Coed Recreational | Coed Competitive |
| Coed 7-8 | |
| Coed 9-10 | Coed 9-10 |
| Coed 11-12 | Coed 11-12 |
| Coed 13-14 | Coed 13-14 |
| | Coed 15-17 |
The League start date (December 27) will be used to determine player eligibility.
Example: If a player is looking to play in the 9-10 division they CANNOT BE OLDER than 10 years and 11 months at the league start date
The recreational division is for the less skilled & experienced players/teams and the competitive division is for the more skilled & experienced players/teams. There are AAU teams that will compete in the competitive division.
League Policies
LEAGUE ATTIRE
Home team must provide their own white shirts
Away team must provide their own dark shirts
We encourage teams to provide their own jerseys!
(If teams show up with similar color jerseys which are difficult for the refs to distinguish, the home team is expected to change or wear pinnies. Everyone must provide their own jerseys.)